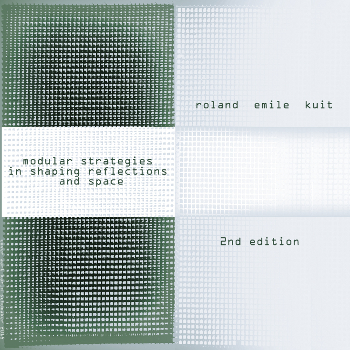 Click the picture for details
Modular strategies in shaping reflections and space
2nd edition
Author:
Roland Kuit
C
oncepts of space (re-)defined and shifted for modular synthesis
Reflections are positional essentials in creating space. How space can be thought of as an indispensable element of music, and with the kinds of approaches that emerge when space is
dealt with from the start producing a sound work.

Interactive Html/PDF e-Book.
The Clavia NMG2 Demo soft synthesizer included.

Stereo, pseudo stereo, ambiophonics, phase inversion, sample delay, feedback, delay networks, hybrid forms, reverberation, granular reverberation and delays, delay taps, switchable spaces, shifting frequencies, resonators, building pre-set resonators, delay matrices, building resonator matrices, Doppler fx, swirls, physical modeling, pseudo Karplus-Strong, phase-lock loop and Karplus-Strong, creating tubes......

Modular strategies in shaping reflections and space. Donemus Publishing House of Contemporary Classical Music.2014, Catalogue number - 13663