Elegant and complex applications for pattern and sound design in modular and binary synthesis.

I

nteractive Html/PDF e-Bookl




The Clavia NMG2 Demo soft synthesizer included





From a two switch interfaced instrument to creating high-end sequencers.




Pattern design, logic 8-bits words chopping to logic wave-shaping, audio processing and more...





Index




Switch contacts.
The momentary switch
Simple applications
The toggling On/Off switch
Simple applications
Switches and control values
The 2-Switch to 8-switches comparison.
Applications of control out signals.
On-OFF switches and triggering
Double functions.
On-Off switches and logic:
Creating n-Bits words.
On-Off switch tuning by the DA Converter
DAC Bias
Successive Approximation ADCs
Bit comparator.
Pipelined ADCs.
About clocking samples
Sample Rate.
Applications
DAC patterns
Advanced applications
Combining a Constant module with a Switch module:
The Toggling Constant.
Creating patterns.
Audio and switches
Waveshaping
Multiplexing
Appendix
More about sampling and sample rates.
Digitizing, Ringing, Bit syncing.
4-Bit adding, 8-Bit comparing.
8-Bit audio scrambling.
Sample switching.
Rate switching.

















Note:

After receiving payment containing your email address the download link will be send.

Delivery: Download
File Size: Zip/rar-file















































A review by Enrico Cosimi


To be On, to be OFF, that's the SWITCH – una lezione di Roland Kuit
After being in Rome, last autumn, for an intensive seminar on virtual modular synthesis, Roland Kuit decided to publish – for an almost symbolic price – the content of his lecture by placing it at the disposal of those who feel ready to face the complexities of unconventional programming.
By Enrico Cosimi
Although the topic may seem exhausted in a matter of minutes, thanks to his formative experience at the Institute for Sonology Utrecht--where, we recall, was one of the first resident event generators, the result of the genius of Stan Tempelaars – allowed an approach and an absolutely unconventional setting, both in tone generation, as in the construction of complex structures.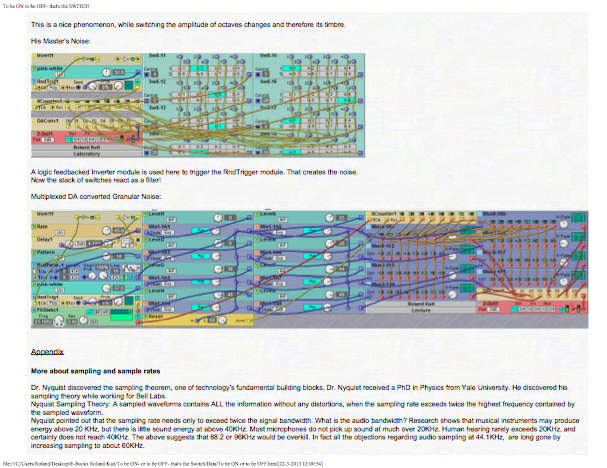 Without going too much into details, we anticipate that the density and expertise poured in the text are absolutely worth the few euros required to purchase; we can list a few programming and finesses demonstrated by Kuit:

* Switching from raising events to design sound structures;
* The articulation, event after event, switch after switch, control mechanisms that enable functional tonal variation in the instrument;
* The use of a simple event generator as the switch for the construction, along with programmable delay lines of low-level oscillators
(i.e., lightweight impact on CPU);
* Treatment applied to an audio signal - internal or external - achieved through switching on and off of the individual bits of the AD and DA converters available on the Clavia NMG2 (from this point of view, you can put your OTO Biscuit to the attic.....;)
* The production of fierce sound treatments obtainable through numerical signal through rearrangement.

All this, through conscious and stylish use of simple structures concentrated around the on/off switch.

As with other educational texts produced by Kuit, again from a PDF with the patches ready to auto-loading in the Clavia Nord Modular G2 Demo Editor: apart from Safari, any browser 2.0 can open the PDF – or its html version – and to ensure, with a simple click, the reading and listening in real time of the patches.
The text contains all information necessary to the proper functioning of the mechanism and, as you can imagine, is a real mine of programming tips also applies in other contexts.



This site is copyrighted © Roland Kuit 2010-2014. All Rights Reserved. Unauthorized duplication and distribution of copyrighted material violates Federal Law.